Local SEO
Local Search Engine Optimisation is about optimising your web presence for searches with 'local intent'. This means people looking for a business in your area, whether they use your location in their search term or not. Search engines know where their users are based on IP address, mobile cell tower or GPS data provided, and they deliver results that are based on different factors to their normal results.
Why is Local SEO important?
Recent estimates put local searches as being around 40% of all searches. With the growth of smartphones, that figure rises every day.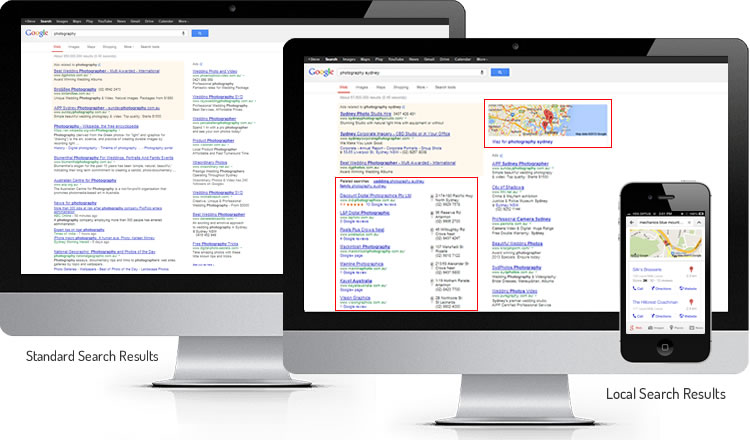 If your business is optimised for local search, you're far more likely to show up in Google's local listings, which are highly prominent in desktop and mobile search results. It can be a rapid short-cut to much higher search rankings. If your business has a location-based element to it (even if it is just the city you're in), then Local SEO could be the smartest investment you can make.
Get a quote for local SEO
Hit the button below for a quick quote for local search optimisation of your website:
Our local search offering
Google+ Business Listings
A verified, optimised Google+ Business Listing is a must for local search success. If Google knows you're the real deal, your business is far more likely to show up in local search results.
We can claim, create and optimise your Google+ listing and show you how to keep it on top. Click here for more details.
Directories
Local and industry-specific directories can be influential in local search results.
We find the ones that count and create quality listings that help your rankings and send traffic to your site.
Site Optimisation
Local search optimisation has its own requirements. We'll set up your site to ensure that Google and other local sites see it as a genuine local business for maximum search visibility.
Local SEO
We practise a number of specific techniques that help your business stand out above the competition, from helping you gain genuine online reviews to earning quality links from your local partners and community organisations.
Recent Local SEO projects